About DBIS | Story Archive | Contact DBIS | OSA Home
A great introduction to science-based news, Discoveries and Breakthroughs Inside Science (DBIS) are TV segments presented in both English and Spanish. Featuring accurate, scientifically reviewed and reliable science information, DBIS clips cover many of the recent developments in optical devices and systems we use every day. These stories will help you understand advancements being made in optics.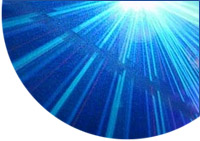 OSA brings Discoveries and Breakthroughs Inside Science to its members and to local English and Spanish TV newscasts all over the United States. These stories reach audiences in order to provide access to quality science news.
Produced by the American Institute of Physics and supported by a coalition of science, engineering, and mathematical societies, Discoveries and Breakthroughs Inside Science promotes awareness of and appreciation for scientists' roles in everyday life.
For more information about using the stories or receiving a library of optics-related videos, please contact mheil@aip.org.
Use the Contact DBIS form to suggest story ideas.
Latest Stories
Bringing Sunlight Inside (2007-05-01)
Diabetes Discovery (2007-05-01)
Saving Electricity, Saving Money (2007-05-01)
Cleaning up CO2 (2007-04-01)
Crime Alert! Molding Fingerprints (2007-03-01)